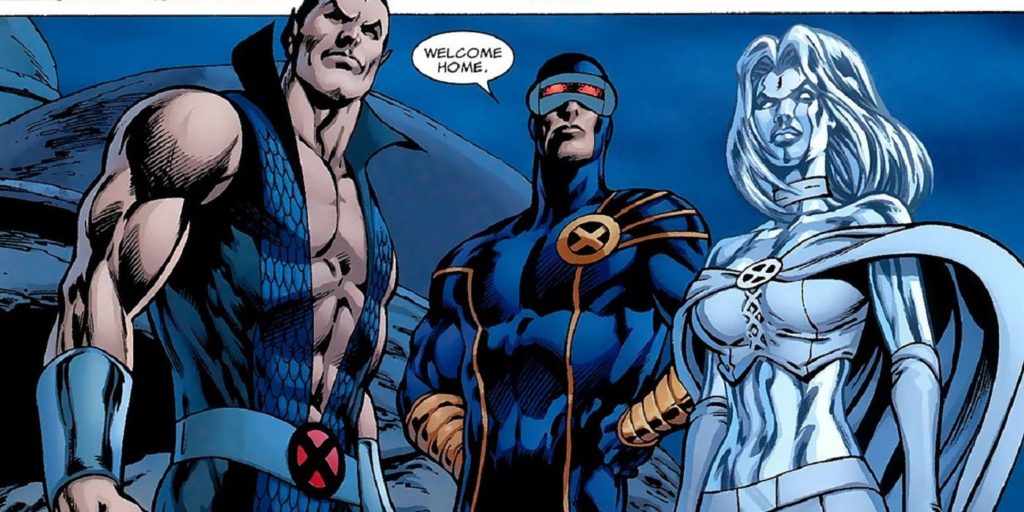 With the Fox properties on their way back to the MCU I was thinking about other characters who might be coming to screens--those not currently confirmed and not part of the Fox deal. We'll exclude anyone already announced as on their way or directly hinted at (no Eternals, who include characters like
Starfox
and
Sersi
; no
Adam Warlock
or
Nova
; I also consider
Kamala Khan
a lock who simply required
Captain Marvel
before she could appear). To create this list I went through various lists dealing with this exact topic as doing my own research looking at popular heroes. I've listed them in order of their first appearance, with the year in brackets, and included any ongoing series they've had (those in
green
have had significant rumours about them or already been introduced in some informal capacity):
Namor
(1939; 1968-74, 1990-95, and 2010-11) - because Universal owns his distribution rights (they were last working on a project for him in 2006), he's not going to get his own film (despite
rumours
), but he's heavily associated with both the
Fantastic Four
and (to a lesser extent)
Black Panther
, so I could imagine him appearing in their films. I've excluded his original comic run in the 1930s, incidentally.
Black Knight
(1955) - putting aside his original iteration in the 1950s and his villainous descendant, the hero (Dane Whitman) has a connection to
Sersi
(of the Eternals), but he's never been able to support his own book--instead he's been part of teams like the Avengers. He has a pretty unique hook (the knight motif) that the MCU hasn't covered yet, so he's a distinct possibility (he'd also work on television).
Wonder Man
(1964; 1991-94) - there was a deleted scene in
Guardians of the Galaxy 2
with Nathan Fillion in the role, but because it was deleted he's not officially in the MCU yet. Simon Williams has spent most of his time as a roleplayer with the Avengers and, as such, would only appear in a group context and I'm not sure what niche he'd fill for the MCU. Without James Gunn to advocate for him, I don't think he's likely.
Hercules
(1965; 2008-10, 11-12) - a long time hero who generally serves as either support in a group (like the Avengers) or as second banana to
Thor
; if he appears I think it's most likely in the latter's context and there might be some push within the MCU to have Greek gods represented since
Wonder Woman
serves that same niche in DC.
Blade
(1973; 1994-95, 2006-07) - with the popular film 20-years ago you'd think bringing him back to screen would be a slam dunk, but it's worth noting that the popularity of both vampires and ninjas has declined severely in the interim and it's difficult to see where an edgy character like Blade could work in the MCU; he'd fit easily on Netflix, but Marvel isn't cooperating with them, so I'm not sure what will happen (rumours for him can be found
here
).
Shang-Chi
(1973; 1974-83) - while he's a popular name for journalists to drop as TV-fodder, as a character born out of the Martial Arts craze of the 1970s he has the same problems that
Iron Fist
does, but is a much less popular character. Unlike
Danny Rand
there's been no popular renaissance for him since his original series and while he persists in the comics the market for ninjas is finite (especially since virtually every Marvel character
uses
martial arts now). I think there's no chance he appears on film (if we're looking for an Asian breakout character there are much bigger ones to lean on).
Tigra
(1974) - frequently an Avenger, but outside of a mini-series she's never been able to support her own book; she'd never get her own film but
could
be part of a group, I'm just not sure what box she'd tick for the MCU so she's a very distant maybe (perhaps as a counter programming to DC using
Cheetah
).
Moon Knight
(1975; 1980-84, 1989-94, 2006-09, 2010-11, 2014-15, 2016-present) - I have no idea what the reluctance to use him is--he'd work on TV (too dark/edgy for film at the moment), but Marvel doesn't want to give Netflix properties anymore and none of the other streaming services seem like a good fit (maybe Hulu?). As a character who has persisted since he was introduced he has a core fanbase
and
represents something the MCU doesn't already have, so I'd put a lock on him appearing eventually (rumour archive
here
).
Captain Britain
(1976; 1976-77, 1985-86, 2008-09) - probably best known for his time on
Excalibur
and
New Excalibur
, he not only has a long history but hits on a number of facets the MCU has only scratched the surface of (international heroes and mysticism). I think he's likely (if, perhaps, not soon), although I wonder if Marvel fears how many 'Captain' monikers they can carry (you can read the rumours about him
here
). Incidentally, he's unrelated to the
Union Jack
character whom MCU producer Nate Moore
is so fond of
(oddly enough the two UK heroes didn't appear together until 2008, despite the latter dating back to 1981).
Spider-Woman
(1977; 1978-83, 1999-2000, 2015, 2016-17) - we already have
rumours
that Jessica Drew will appear in
Spider-Man: Far From Home
, so if that's the case she doesn't belong here. The
Spider-Man
films are the most logical ones for her to appear in, but she needn't be restricted to that (I do wonder if Marvel will use her hero name or simply have her referred to as
Jessica Drew
). Regardless, I'd be surprised if we
didn't
see her (oddly enough, it appears her rights are separate from
Spider-Man
's, such that the MCU could use her even if Sony walked away from their arrangement--I believe this is true for the
Miles Morales
as well, which if rumours are true are part of how Marvel pressured Sony into their current deal).
Quasar
(1977; 1989-94) - if he didn't come up so much in various articles I wouldn't consider him, as he's (comparatively) an obscure character. James Gunn seems to be the one
advocating
for him, so I don't know if his departure means the character is less likely to appear.
She-Hulk
(1980; 1980-82, 1989-94, 2004-05, 05-07, 14-15) - has the same tricky arrangement with Universal and unlike
Namor
she doesn't have the same kind of cache; when not in her own book she's been an Avenger or associated with the Fantastic Four. The concern here, besides the situation with Universal, would be the possibility that the MCU wants to avoid derivatives of core character--this would change considerably if
Hulk
dies, of course.
Firestar (1981) - this is a funny one as the character comes from an animated series (Spider-Man and his Amazing Friends), the only such character presented. She's only ever had miniseries and is probably too obscure to appear (doesn't tick any particular boxes)--I included her because she's appeared on a number of lists I've seen, but in researching her she's always been a mutant and therefore is via Fox--I left her in because of her very curious origin.
Beta Ray Bill
(1983) - his visage (or at least one of his race) appeared in
Thor: Ragnarok
, and I'd be shocked if we didn't see him in the fourth Thor film; he's only had miniseries to himself, but he's a beloved character and well-suited to interacting with
Thor
.
Sentry
(2000; 2018-present) - I'm adding this late because I'd quite forgotten the rumours about him that have circulated the last couple of years (
for example
) because I wasn't covering them extensively at the time. Despite currently having his own comic, it's clear he works best as part of a team or as an antagonist--he certainly fits the framework of the Cosmic Marvel stuff James Gunn was supposed to run. With that said, he hasn't slipped into any official rumours (unlike Quasar above), but his split personality definitely offers unique opportunities for the MCU and I think uniqueness is what you look for in characters who aren't especially popular.
This isn't a comprehensive list by any means, of course, and leans more towards older heroes. Marvel isn't afraid of obscure properties given both
Guardians
and
Eternals
(both of which, admittedly, fit the older hero model). The MCU might one day tackle characters like the Tarzan-like
Ka-Zar
(1965) or
Shanna the She-Devil
(1974)--I think are tied up with Fox. If we're looking for representation someone like
Moondragon
(1973) or
America Chavez
(2011) are possibilities, although they either have never had their own series or (in the latter case) weren't unable to sustain one (2017-18).
Which of the above characters do I consider most likely to appear (excluding
Firestar
for the reasons given above):
Definitively
Namor
- likely in
Fantastic Four
rather than his own film (I can't decide if Feige thinks it's worth competing with
Aquaman
or not)
Blade
- I'm 50/50 on him being on TV rather than film, but in either case I don't think it's soon
Moon Knight
- I have no clue why he's not already on TV, but if he's being reserved for film it must be for a particular reason
Captain Britain
- he ticks a lot of boxes, has interesting connections to different characters, is quite distinct from the other Captain--I think we'll see it, but probably not soon (likely waiting for the
X-Men
introduction, particularly if we get
Psylocke
and she remains his sister)
Spider-Woman
- if she's not in
Far From Home
she's going to pop up soon--in film as a supporting character or on TV in a similar role
Beta Ray Bill
- he'll absolutely appear in the next
Thor
--that's speculation on my part, but I'd be shocked if he didn't
Maybe
Black Knight
- the main attractive thing about him is his distinctiveness (no one has done a medieval-style hero on film); he'd also be very easy to do on TV, but there's no chance he gets his own film (I could see him either in the Avengers or perhaps showing up in
Doctor Strange
)
Hercules
- the easiest fit for him would be
Thor
, but that IP is getting very crowded (while
Ragnarok
killed off a lot of characters, it also added
Valkyrie
and
Korg
with
Beta Ray Bill
presumably on his way)
Tigra
- slips into the maybe pile just because DC is doing a similar character and if she's done poorly it gives Marvel the opportunity to take that (narrow) niche; she'd most likely be an Avenger
Quasar
- I'm not sure if he's planned for whatever comes after
Guardians
or not and I also don't know how much James Gunn was the force behind him as part of Marvel Cosmic; I'd guess he'd be part of the second phase of the Guardians (if that's still a thing)
She-Hulk
- were it not for Universal I'd put her in the definite pile, but because of those complications the most likely event is that she's a new member of a group (Avengers etc)
Sentry
- the most intriguing thing about him is his split personality--he serves as a foil against threats to the larger universe or as that threat himself if his power-levels are maintained
Unlikely
Wonder Man
- I just don't know what using him accomplishes, but if he does appear it's as a supporting character on the Avengers
Shang-Chi
- if he appears it would be as a supporting character and almost certainly on TV
Of these characters only three, I believe, can lead their own property, but only one (
Moon Knight
) is a lock to do so--either on TV or film. The other two,
Captain Britain
and
Blade
, are somewhere in the MCU pipeline, but all three are later than sooner.
This article is written by Peter Levi (@eyeonthesens)